---
As a prepper, you should already have a survival stockpile full of food for your whole family before SHTF. You might also even have extra food in your fridge, but what do you do if the power goes out and your freezer is full of food? (h/t to DeepRootsAtHome.com)
If you're worried about all the food in your freezer, detailed below are some tips to help you determine how to best use up your food supply before the items go bad while the power is out.
Invest in a freezer alarm
Stocking up on frozen food is a great prepper strategy because it keeps most of its nutritional value, texture and taste in the fridge. And your freezer would be the ultimate preparedness tool, at least until a power outage. Ideally, you should also have a generator and extra fuel or another alternate power source as a backup in case disaster strikes.
The minute the power goes out, keep the fridge or freezer doors closed and don't open them unless you're taking something out. Try to keep frozen foods stored continuously at 0 F or below so they can last indefinitely. The inside of your freezer stays cold because of insulation and active heat removal. But during a power outage, the cooling pump stops and you're left with only insulation.
But you shouldn't panic since a fully stocked chest freezer can stay cold enough for at least 48 to 72 hours. Meanwhile, an upright freezer will last about 48 hours unopened.
To make the food in your fridge last as long as possible, cover the freezer with blankets but don't cover the vents. Doing this for chest freezers helps insulate them even further. If you're worried about food going bad in your fridge during a power outage, get a freezer alarm. As the name implies, a typical freezer alarm will go off every minute if your fridge or freezer loses power.
A freezer alarm is a worthy investment, especially if you have a fully stocked large-capacity freezer at home. You can also check your fridge or freezer for power as a part of your nightly bedtime routine, right after locking the doors and checking all windows. If your chest freezer doesn't already have a built-in alarm, get a freezer alarm and set it up immediately so your food doesn't go to waste if the power goes out.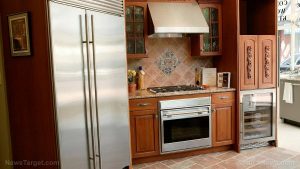 Keep fridge doors closed
Did you know that opening your freezer door makes heavy cold air spill out the bottom of the door? It's then replaced with warm air drawn in from the top of the door. If you have electricity at home, this isn't something to worry about. But during a power outage, it can cause food spoilage. According to physics, heat flows from a warmer space to a cooler space until their temperatures are equal.
When you don't have electricity, opening the door once can raise the temperature inside your fridge by several degrees. Thankfully, you can keep frozen food cold longer if the power goes off by keeping it very full. If your freezer isn't full, fill clean plastic gallon milk jugs with drinking water over time. Keep the jugs in your freezer.
When the power goes out, the frozen water in the jugs will help soak up massive amounts of heat. On the other hand, if the power doesn't go out, you can just cut the plastic bottles and smash the ice to cool other things. Alternatively, you can fill up any spaces in the fridge with closed cardboard boxes. It's not as effective as adding frozen food or water, but it can still help reduce how much warm air goes in when the door is opened.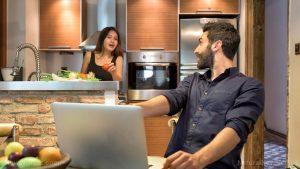 Deciding what to keep and throw away
You might have second thoughts about throwing away food in your fridge during a power outage, but you need to keep these tips in mind to avoid health issues and prevent food spoilage.
Remember, it's not worth getting sick just to save a couple of dollars.
Keep an appliance thermometer in your freezer. The ideal freezer temperature is 0 F. Discard perishable food in a freezer that is above 40 F for over two hours. If the inside of the freezer reached 50 F, try to use up all the food. If the food has already gone bad, throw it out.
If you have excess fruit and vegetables from your home garden, preserve them via home canning to extend their shelf life significantly. If you have a gas or propane burner or a wood stove, you can make stew and can it. Invest in quality reusable canning lids.
If the foods below already contain ice crystals and feel cold, refreeze or eat them immediately. But if the food is thawed and held above 40 degrees for more than two hours, they should be discarded:
Cakes
Cheesecake
Entrees
Frozen meals
Frozen milk
Meat
Meat pies
Pasta
Pastries with custard filling
Pies
Pizzas
Poultry
Rice-based casseroles
Sausage and biscuits
Seafood
Soft or shredded cheese
Soups
Stews
Vegetable juices
If these foods contain ice crystals and feel cold, you can refreeze them. If these foods thawed and lasted above 40 degrees for over than two hours, you can refreeze them:
Bagels
Breads
Cakes without custard fillings
Commercial or homemade pie crusts and bread doughs
Cornmeal
Flour
Fruit juices or commercially packaged fruit juices
Hard cheeses
Muffins
Pancakes
Rolls
Waffles
The "first in, first out" rules applies to both your food stockpile and the food in your fridge or freezer. Every time you stock up on food, label all frozen food items with its contents and the date you are freezing it. Use the "'first in, first out" rule for your freezer to prevent food spoilage.
If you use a deep chest freezer, get several large coolers. If you lose electricity during winter, you can transfer the most valuable food to the coolers and put them outside in the shade or on the snow. (Related: Prepper must-haves: What to stock up on before a summer or winter power outage.)
Discard any food item that has come into contact with juice from raw meat. You can also prevent this by keeping meat and poultry on a tray or in a separate area of your freezer.
Organize foods close together in the freezer so they stay colder longer if the power goes out. Finally, throw away items that feel warm to the touch or have an unusual smell or texture.
Before the power goes out in your area, keep your fridge fully stocked and buy a freezer alarm to make your food last as long as possible.
Visit Preparedness.news to read more articles with tips on food safety during power outages.
Sources include: